Not only a change in ownership but also a new name (Morrison & Mackay will become Morrison Scotch Whisky Distillers, remember that name ladies and gentlemen!), a completely new look and approach to all the brands from their portfolio. The first to implement this was the Càrn Mòr range, which has just been relaunched recently, together with the announcement of the new name.
The Càrn Mòr range already consisted of two series, but a third series has now been added. The bottom line is that these different series within this range are designed to reflect the different age, strength and batch sizes. The first is the Strictly Limited Series, three of which I will be reviewing today, consists of small batches, all bottled at a strength of 47.5%. The second, named Celebration of the Cask, has only single casks bottled on cask Strength. And last and certainly not least is the 3rd new series Family Reserve, which will only include extremely limited and rare single casks.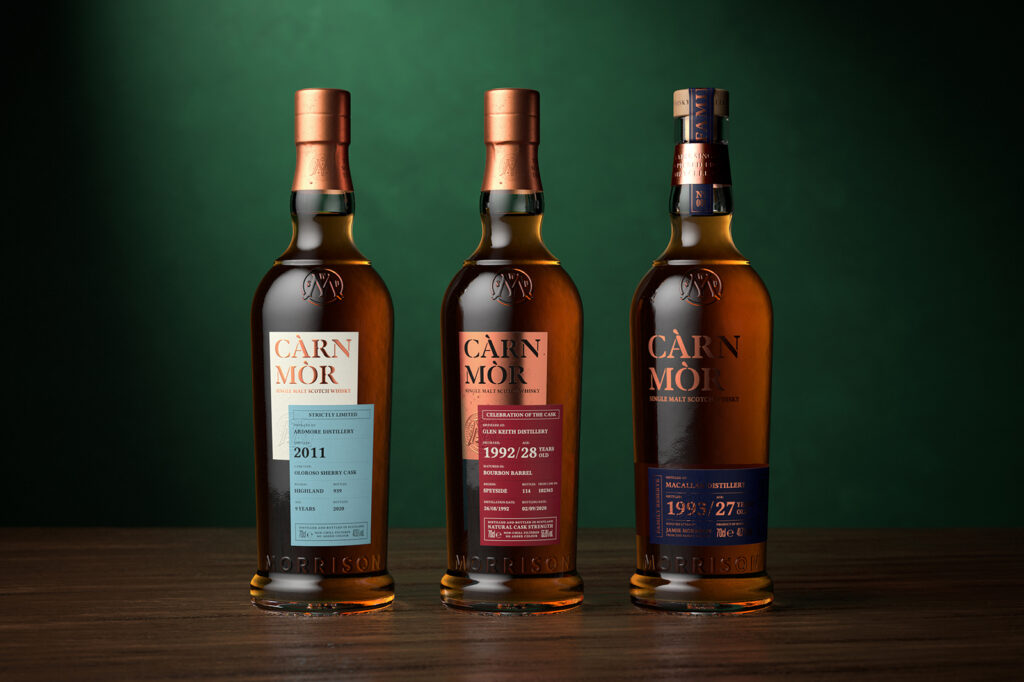 This Longmorn has matured in a 1st fill bourbon barrel for 11 years and is bottled at 47.5% ABV.
Longmorn 2009 tasting notes:
Nose: quite fresh and fruity, with a hint of pineapple juice, red apples and mandarins. Followed by vanilla. And then I get a sour note from gooseberries mixed with unripe pears. Later also lemons.
Taste: a little bit of an oily mouthfeel. Vanilla. A hint of caramel fudge and some white chocolate. Kiwi and pears. Oranges. And then a slightly bitter edge from pink grapefruit.
Finish: mid-long with mostly kiwi and pink grapefruit.
Score 86/100
---
This Mannochmore has matured in PX sherry hogsheads for 13 years and is bottled at 47,5% ABV.
Mannochmore 2007 tasting notes:
Nose: oh smells good! Forest fruits at first, blueberries, cranberries and a good amount of honey. Burned caramel, as in the top layer of creme brulee. Toffee. Stewed apples. Later also dark chocolate and a faint hint of tobacco.
Taste: a good dark chocolate mixed with cranberries and blueberries. Maple syrup and also honey. A few spices, such as black pepper and cinnamon.
Finish: mid-long with warm winter spices and cacao, making the finish somewhat drying. Also, some fruits here, with mostly cranberries.
Score: 87/100
---
This Williamson has matured in Oloroso sherry hogsheads and is bottled at 47.5% ABV.
Williamson (Laphroaig) 2010 tasting notes:
Nose: vegetal peat. Seaweed and brine. Some honey and a hint of sugar water. Then it goes towards iodine. Pine needles in the background.
Taste: quite ashy in the beginning. A trace of peat.Seaweed and brine. A smouldering campfire. A hint of iodine. Also ending with the pine needles. Later also chocolate.
Finish: short to mid-long peat, dark chocolate and again pine needles.
Score: 85/100
---
Overall: The Longmorn is rather nice and fruity. Not very complex but good flavours and a solid dram. The Mannochmore was my favourite which turned out to be a pleasant, soothing winter dram. Then we had the Laphroaig, which was also nice, but the lease for me as it was somewhat short and flat in the finish. It just missed that oomph and it made me wonder if a slightly higher ABV would have been better here. But a lovely bunch of drams that are all fine in their own way and not unimportantly, the prices are also very good!
Samples provided by Morrison Scotch Whisky Distillers.