And than you find yourself in a plane towards London with just one mission, a private tasting of The Balvenie, hosted by Global Brand ambassador Sam Simmons… I felt very fortunate and a bit nervous though.
It was only a couple weeks ago, that I received an invitation for an exclusive tasting from the Balvenie. There was an element of mystery since the only thing mentioned was that it would be a private tasting hosted by Brand Ambassador Sam Simmons. The invitation also mentioned that the oldest Balvenie ever released would be poured as part of the experience. That's quite something, and I became very curious and flustered. In the week preceding this event it became clear that the tasting was going to see the 50 year old Balvenie being superseded as the oldest expression.
Eventually after watching time slowly drift by, it was time to leave for London! Part of the experience included hotel accommodation where the event was to be held later the next day. So I would be well prepared and rested for the tasting itself on the Sunday afternoon. Good plans never quite come to fruition in my experience and at 5am my delightful sleep was rudely disturbed. It was an early wake-up call from my friendly taxi driver, who apparently mixed up am and pm, as you do. Surprised and somewhat confused, it brought a dramatic end to my good night's rest. The unexpected benefit of this early rising was that I now had some spare time to go for a nice walk through a part of London. Around 9am, I was on my way to visit the queen and her Corgi's. With such a fancy tasting in prospect later that day – I might as well spent my whole day in a luxurious setting and become accustomed to a stylish existence.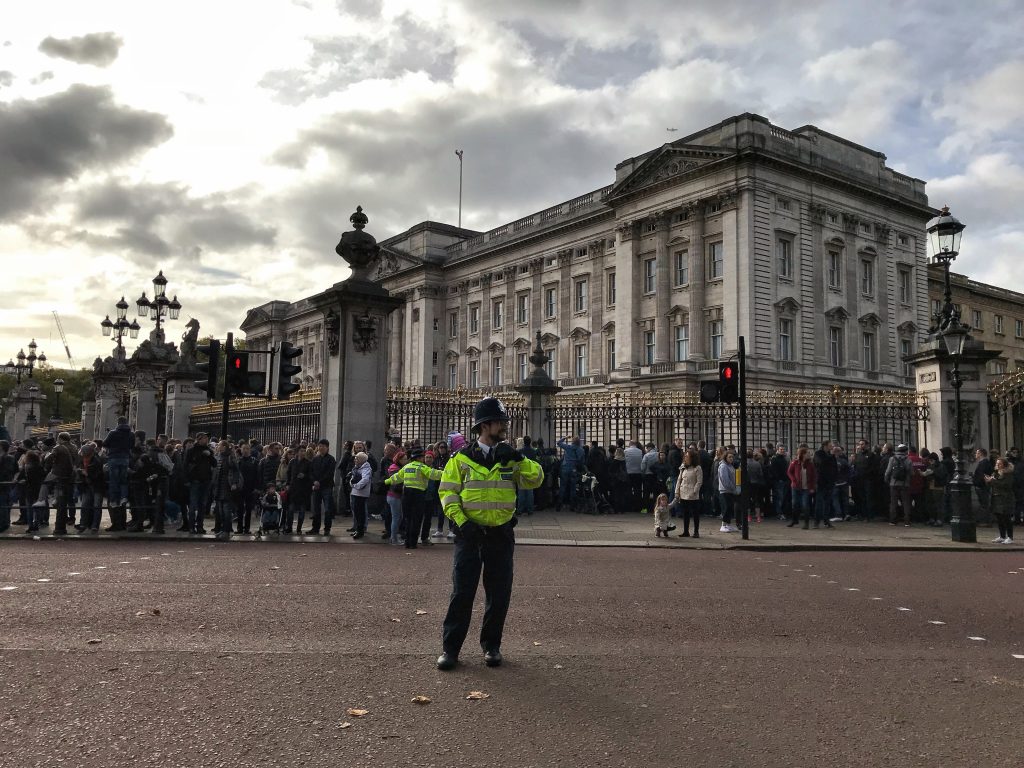 The Balvenie DCS Compendium, chapter 3
You might have already heard about the Compendium range from Balvenie. A series of 5 releases each of them marking an unique moment in time for David Stewart. The tasting held was for the launch of the newest release in the DCS Compendium range: Chapter 3, titled Secrets of the Stock Model. A tribute to David Stewart's skill and knowledge in managing The Balvenie's stocks. The set contains 5 different expressions:
• 1961 Aged 55 years – Cask 4193, European oak Oloroso sherry hogshead, filled 14th June 1961, 41.7% ABV
• 1973 Aged 43 years – Cask 8556, European oak Oloroso sherry butt, filled 7th June 1973,  46.6% ABV
• 1981 Aged 35 years – Cask 7824, Refill American oak hogshead, filled 29th October 1981, 43.8% ABV
• 1993 Aged 23 years – Cask 11621, Refill American oak hogshead, filled 6th December 1993, 51.9% ABV
• 2004 Aged 13 years – Cask 741, European oak Oloroso sherry butt, filled 19th January 2004, 58.2% ABV
The price range of these bottles is broad and expect some hefty price tags for these unique bottles. The complete set will cost you as much as £ 57.000.
The Tasting
The tasting itself was a 1-on-1 experience that consisted of 6 different whiskies. From the Balvenie 12 year old Double Wood to the main act in the form of a 1961 single cask from the new DCS Compendium release. A mighty 55 year old, and the oldest Balvenie ever released! Sam guided me through the tasting with some interesting insights about their stock management. Starting with the Balvenie 12 year old Double Wood, which introduced the double cask maturation process David pioneered. Chapter 3 includes 2 vintages that highlight this mark. Vintage 1981 symbolises the first whisky that was used for the Double Wood and 1993 was the year that this whisky was released.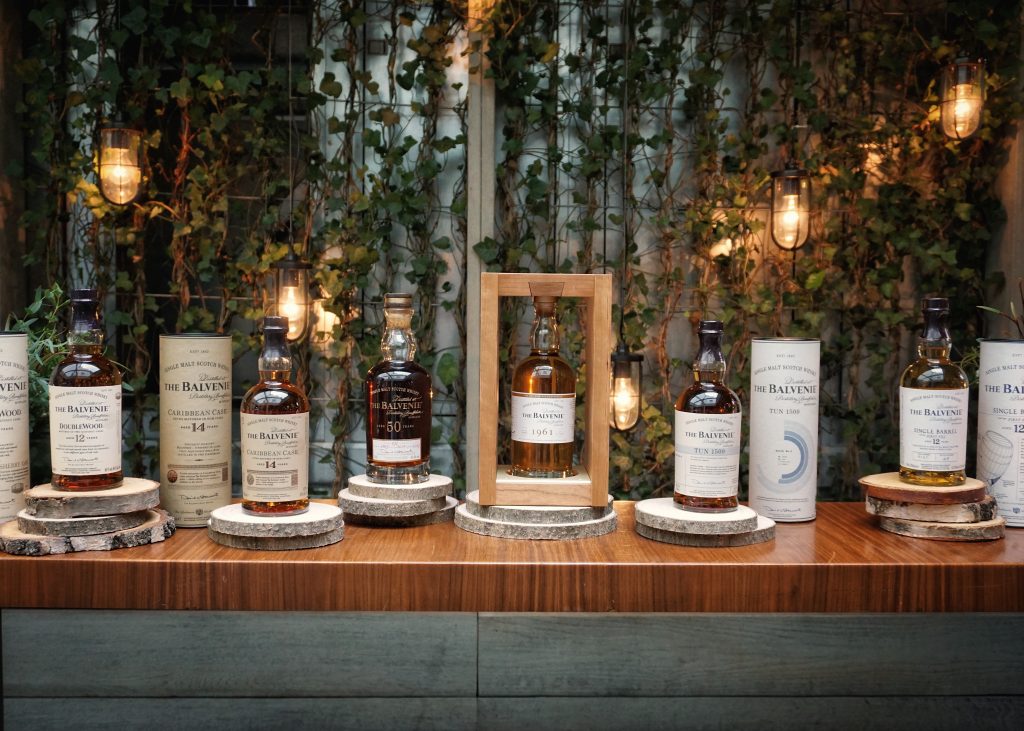 It's the subject of this tasting, as all the whiskies tasted individually refer to the stock model. How the master distiller controls and implements this difficult task is a key responsibility in his role. You might believe he or she walks around warehouses all day with a glass firmly snared under their nose, but the job of the master distiller is often romanticized.  Yes it is part of their task, but most of the time they examine tables and ledgers. How to manage the stock system, to predict how many casks and what kind of casks will be needed and when.
The Balvenie 1961 single cask
After tasting the Double Wood, a 12 year old single cask and the 14 year old Carribean cask, there was a very nice Tun 1509, which was absolutely one of my favourites during the event. Followed by something really special, a very dark coloured 50 year old The Balvenie. One with a great nose, but the taste was a little too soapy for me. But nonetheless very interesting to experience and a real talking point with Sam. Released together with another 50 year old from a sister cask that were distilled and bottled at the same time. Meaning that for decades they laid side by side in the warehouse, but matured completely differently. Both have noticable colour difference, a dissimilar ABV and the taste differs as well. Very interesting, and proof  that even the slightest influences can change a whisky so much!
And then it was finally time for the great one, the 1961 single cask from the DCS Compendium, chapter 3. Absolutely stunning, and also the best I've tasted that afternoon, although the Tun 1509 wasn't too far behind. This cask, carefully taken care of by David Stewart over the years, was one of the oldest in the warehouse. It was even there before David started working for The Balvenie. A celebration of his 55 years with the company.
Overall
Overall, despite the early wake-up call, it was an fantastic experience. I mean, when do you ever get the chance to taste such exclusive whiskies and get a 1-on-1 tasting  with the Global Brand ambassador! Well, certainly for me it's usually almost never. Sam Simmons – a true whisky geek- is definitely very passionate about his job. I enjoyed his enthusiasm greatly and the tasting wasn't too bad either! The format allowed us space and time to talk and discuss rather than the common method of just listening and absorbing details.
The overall theme and the whiskies selected to highlight this aspect make for a very interesting chapter in the Compendium range. David Stewart chose all these bottles for a specific reason. And in combination with the other chapters it feels like a build-up to a great final chapter in 2019. Will that be David's final masterpiece at The Balvenie? Who knows..