When I first heard from BYOB-C (Bring Your Own Bottle Club) I was a bit confused. Is it a club or a bottler? Where can I buy their bottles? Where can I get more information about them? It was all a little mysterious to me.
During my search on the worldwide web, I didn't get much further than some bottles on Whiskybase, a bunch of reviews on Mark DerMul's website and a Facebook page.
So when I got in touch with Dominic from BYOB-C (because I was interested in this nice Ardmore), I also asked him a few questions to find out more about this Belgian bottler.
Can you tell me a bit about yourself first and how you got involved in whisky.
Hi, I am Dominic, 42 years old and I live in Belgium. Married, two kids and two dogs. I love good food, friends, Defenders, travelling and Iceland.
In 2004 my oldest brother tried to persuade me to collect whisky, but I didn't want to listen then. A few years later, in 2009, when I had to buy a bottle of whisky for a friend's birthday (also a member of BYOB-C), I slowly started getting into the whisky. After visiting a few different tastings, I came up with the idea to start BYOB-C in 2014, together with 7 friends.
In the meantime, BYOB-C became a non-profit organisation and I also became a founder of Klubb23 Bróðirhood of Extraordinary Whisky enthusiasts and member of Carbon 12 (a private bottling club, existing of 12 members).
We are grateful to have had the help of so many other whisky enthusiasts in general, especially Jürgen from The Whisky Mercenary and Willem and Adri from the Casqueteers.
There is no website, so there isn't much information available about BYOB-C and Klubb23. Can you tell me more about it, for instance, who they are and when and how it all started?

BYOB-C started on 9/8/2014 as a club with 8 persons but became an independent bottler in 2018 and Klubb23 is the company name of my secondary occupation. 
A French knifemaker (Manu Laplace) once told me that a company name needs to be something for the ladies and gentlemen where they can buy adorable things they like and prefer.  It should be like a club that they enjoy going to or being a part of.  In Swedish: club means Klubb. The number 23 is a life number that runs through my family since the early 1950s.  So just like Sergio Herman (a famous Belgian chef) has his number 19, we have number 23.  We find this number in the most strange moments, like a flight seat, a number on a license plate, a hotel room, a house number, the first day at a new job…  Therefore I have chosen this name.  Klubb23 is also involved in bottlings for BYOB-C, starting from the Glen Elgin and the Commandos.
There isn't a website, but BYOB-C has its own Facebook page, Bring Your Own Bottle Club, and  Klubb23 only has an Instagram page for now.

Can people just join the club or how does this work exactly. And also people from outside Belgium?
Within Klubb23, we started the Bróðirhood of extraordinary whisky enthusiasts. Which is a club for 23 members who pay a one-time contribution of €23, after that, you sign the gentlemen's agreement and get a unique membership number. By being a member you have the opportunity to buy bottles at almost the purchase price. Friends and enthusiasts who aren't members can buy the remaining bottles for a fair retail price.

The club is not only aimed at people from Belgium but at whisky enthusiasts in general. And as you know you can find them everywhere. We are very lucky to have Rudi and Peter from the Dutch whisky brothers within our Bróðirhood for instance. Currently, we only have two spots are left.

You started with the Lads of Lobland, now you have the Mobsters on Mopeds and also BYOB-C (Build your own commando), All very distinctive and lovely labels, how did you come with these.
You forgot one, the Old Travel Poster series. 😉
The name Lobland was created during our second tasting when Jürgen (TWM) asked us if we were ever been to Scotland.  Only my brother said yes.  And of course, the second question was where he had been in Scotland…. So my brother opened Google maps on his small Samsung S3 mini and tried to find the place. But on the map, it looked like a lob. Very quickly that became Lobland and a day later, it was Lads of Lobland. 

All ideas start somewhere in my brain.  I get an idea and discuss it with the designer.  He gets some details and then it is up to him.  He always knows which direction I want to take with the label.
Build Your Own Bearded Commando is just another interpretation of the acronym.  I must admit that I already have a new idea on this one. ?
Mobsters on Mopeds came alive somewhere on a holiday in Italy while driving to a day trip destination.  The Golden Sixties gave us the opportunity to continue this series for a long time.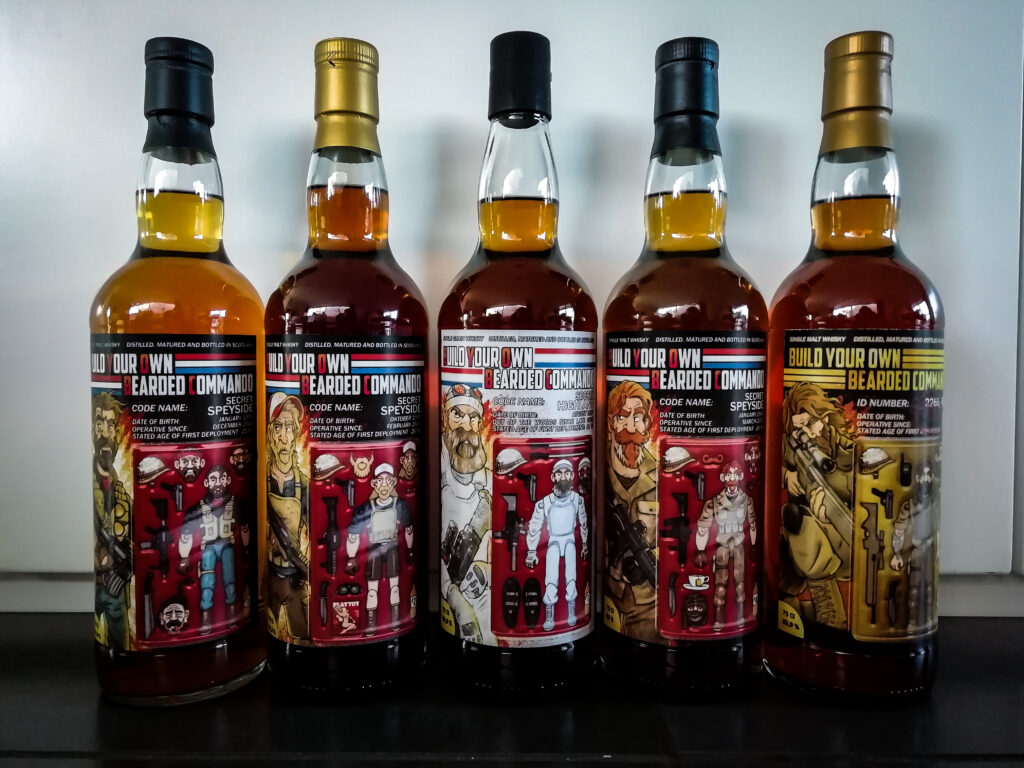 You also have a gin label, Flavour 23. Can you tell me a bit about this and are there plans to bottle more of these?
All our gins have been created and distilled by Erik Molenaar at the Wagging Finger Distillery. We always used the basic 8 ingredient run of Erik and always added 3 to 5 herbs which my mom selected. Almost all our gins have matured on oak.
On the first few labels, there was a lion stated, playing in the flowers.  It's a tribute to my kids, Fleur (flowers) and Lander (Basque name for lion-man).  Afterwards, I got the idea to create a palm fish island. We have released some nice gins in the meantime, like a charity gin for 'de warmste week' from Studio Brussels in 2019 and we also did 5 runs for a group, called the Dutch runner. Occasionally a new gin will be released.
You have very nice bottlings, but you can't buy them in stores. Are they available somewhere for people or just for the club and friends?
Thanks to our followers and the community, most of our bottles are already sold out before or just after their release. A word of thanks must go out to Christophe Vloebergs (Vloebi) who started to follow us and introduced us to his friends. Also a thank you to Bert Dexters and Stijn Pauwels from Liquid Art and to Rudi van Heezik who introduced us to the Dutch whisky scene!
If there is a possibility to see our bottles in the stores, we don't say no to it. Our philosophy is to enjoy whisky and we love to share our passion with other whisky lovers.

Last year and this year with Covid has been a weird period. How was that for the club and BYOB-C?

Normally when we do a tasting evening, the host is free to invite extra people.  The only rule is to bring a bottle to share.  But with Covid19 we didn't have the chance to do any tastings.  We only did one online tasting to discuss the annual things.
But last year was also very positive. I started my secondary occupation and afterwards created the Bróðirhood. We had some nice bottles with BYOB-C, so seeing this whole picture I must admit that this weird time was a nice exploration in the whisky world and an opportunity to meet great people!
What are your plans for the rest of 2021? Can we expect new bottlings soon?
BYOB-C
We are just about to release a 10yo secret Highland 2010, of which we aren't allowed to reveal the distillery's name on the label. So we had to be creative and decided to make an acronym of the name. This 10th Mobster is a tribute to the Ducati 50cc SL1 moped and is named: Dieses Moped ist Sehr SCHNELLY.
Klubb23
Another one we'll be releasing soon is a 14yo Tomintoul 2006, which has matured in a Monbazillac cask.  The label is the 3rd and last one in the series, called Wild & Distinguished.  This bottle will show you The Phantom.

And recently we also released a Dalmunach 2015 and a Dailuaine 2010, both bottled by Duncan Taylor in The Octave range.
Many thanks to Dominic for his time, photos and answer all my questions!