This Glen Garioch and Ardmore 11 year old are the first two releases from the Ukrainian bottler The Bookinist. It was founded by Anatoliy Berezovskiy and you may have already seen that name here because he is also involved with Scyfion, which I have written about before.
As of now, these bottles have only been released in Ukraine, but hopefully, that will change in the foreseeable future. In the meantime, I thought it would be a good idea to introduce The Bookinist, so in addition to reviewing both single malts, I also asked him some questions to find out more about this new bottler.
We know you from Scyfion and now you have also started The Bookinist. Can you tell me a bit more about this project and how you got started with this?
The Bookinist was my first project. I have started it in 2017 making my dream to bottle whisky come true. I quit my job in the energetic sector, I was free to begin new independent life with something that I love and was fond of. I headed to Scotland, aiming to buy a cask of whisky. I had the idea to unite my passion for reading with whisky and dedicate it to my favourite books. After a fascinating journey through Scotland and a lot of "no, we don't sell casks", I have finally bought my first two casks. My appreciation to Stewart Laing and his family. In that same year Ruslan Zamoskovniy, founder of Scyfion invited me to join him.
Can you tell me a bit more about the name and stunning labels that both represent a book.
Bouquin means an old book in French. Bookinist – a specialist and expert in books, rare and old. Bookinists read a lot and tied their life with books. For me, it's a lifestyle to read every time when it's possible, since my childhood. So when I was thinking about the labels and conception itself, I knew what the title would be. As for the design, it was created in 43 Oz studio in Moldova. These guys had an experience in whisky labels and materialized my ideas perfectly. It's very difficult – especially with the Karamazov brothers – to reflect the spirit and the atmosphere of the book on the label. We decided that the two polar opposite and at the same time close characters father Fedor Pavlovich and his son Aleksey would display the essence of the book.
Why did you choose for these two books? What do they mean to you?
"The War of the Worlds" was my first science fiction book when I was a kid and it impressed me so much with its fantastic plot, technology predictions and faith in humanity. After that, I devoured all Herbert Wells books. It teaches us, how not to lose our sense of wonder.
"The Karamazov Brothers" is the last and the most difficult book of Dostoevsky. I have read it in school, as part of the school programme and I was too young and too raw for it. I read it again in university and then again and again. Yes, it's huge, yes there are more questions than answers in this book, and yes you literally can feel all the phantoms Dostoevsky was haunted by, but it's fascinating! One of the best books I have ever read. All four temperaments carved with surgeon precision. Salacity and faith, passions and cold precise mind. Oh, it's such a great book.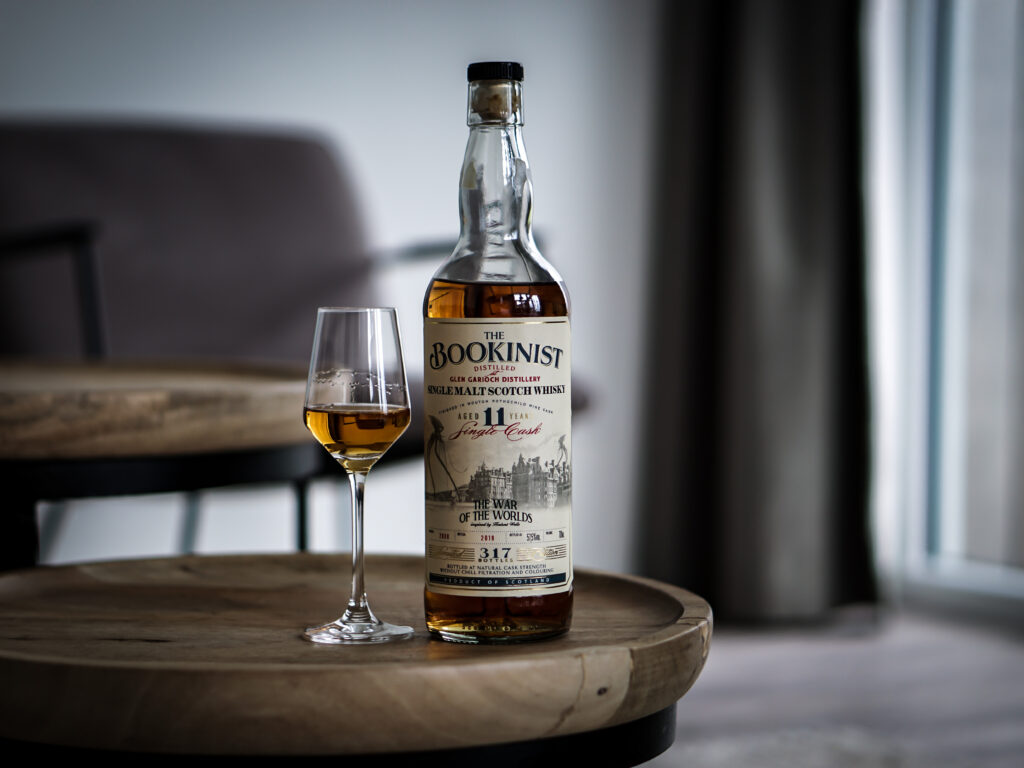 Both single malts have the same age, was that your intention or was it a coincidence.
It was the intention. I have chosen two whiskies of the same age, both underappreciated, both working horses for blends, rarely praised with high-level quality casks. I love both distilleries. They were both at the beginning of my initiation to whisky. So, for me, It was very symbolic to start from there.
Both bottles were finished for 10 months in wine casks from Wine houses from the Bordeaux area in France, will all further releases get a wine cask finish and from this specific area? And why 10 months?
I was lucky two bought these two casks from the glorious wineries in Bordeaux and hope the symbiosis of whisky and cask succeeded. In the future, I will definitely use more casks from Bordeaux and other wine regions from France. They are amazing. Both whiskies were finished for 10 months, because to my opinion they were ready after fresh casks to represent their best with wine influence at cask strength.
The bottles were already bottled in 2019. You told me back then that would be released very soon. Can you tell me if you had any difficulties after that? Or were they already for sale in Ukraine?
They arrived in Ukraine at the end of August 2020 being bottled in December of 2019. It's always quite a challenge for whisky to make its way to Ukraine. And in Covid times it slowed down from jogging to lame walking.
I know it's been very difficult to ship them to the EU. Can you tell me a bit about this?
You must be stubborn and unbending to accomplish this mission. You need an expensive export sale licence to send a bottle to your friend in the EU. So, more often the bottle travels like Paddington from Peru.
What are your main markets currently. And have you plans to expand?
Currently, the bottles are only available in Ukraine. But this year, I hope in autumn, both The Bookinist and Scyfion will appear on the EU market.
What are your plans for the near future? Can we expect more bottles from The Bookinist soon?
More books and more whisky. The next two releases are maturing in exceptional casks. One from Italy and one from the USA. They will be bottled in summer. And more ahead.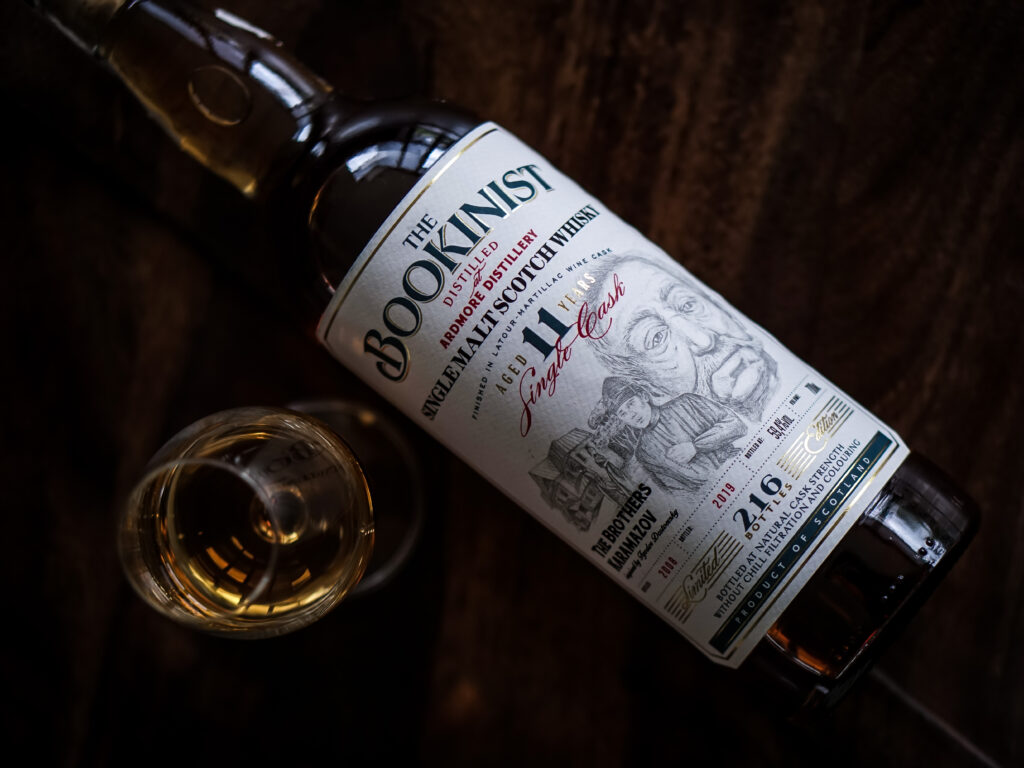 This Glen Garioch is finished in a Mouton Rothschild Wine cask and is bottled at 57.5% ABV.
Glen Garioch 11 year old tasting notes:
Nose: blueberries and red berries. A pinch of honey and it's somewhat malty. Tobacco in the background. Vanilla. A very light sulphur note, which is followed by hazelnuts. Later I also get oranges and a hint of lemons. A creamy caramel toffee too.
Taste: Red berries and blueberries. Honey again and tobacco too. Lemons. Hazelnuts. Caramel and toffee. Followed by a bunch of spices, such as black pepper, ginger and nutmeg.
Finish: mid-long to long with the same spices, toffee and blueberries.
Score 85/100
---
This Ardmore is finished in a Latour-Martillac wine cask and is bottled at 59.4% ABV.
Ardmore 11 year old tasting notes:
Nose: a touch of peat smoke and lemons. Then it goes to blueberries and red berries. Tobacco leaves. Later also apricots and a touch of ginger. Water: farmyard smell. Raisins.
Taste: quite some peat smoke on the arrival, but also tobacco leaves and a hint of ash. Which is quickly followed by cranberries. Honey and sweet raisins. Vanilla. A touch of lemon. Dark chocolate. Then some black pepper, a touch of ginger and cinnamon. Water: more towards dried apricots and raisins and spices get more settled. A hint of oranges.
Finish: mid-long with the spices, dark chocolate and lemon. water adds Apricots and raisins.
Score: 86/100
---
Overall: When I opened the bottles and tasted these single malts for the first time, I found them very aggressive. I did taste that there was more to it, but that didn't really surface, it was hidden behind that enormous alcohol punch. However, after a few weeks, this started to change and they both actually got better.
Both the Glen Garioch and the Ardmore really need their time and air. After that, the aggressiveness that was so prominent fades and makes way for all those flavours, I was actually looking for.
Both whiskies are nice in their own way, with the Ardmore slightly being my favourite, but both are rich in flavour. Just give them some time, that's all they need to truly open up.
Many thanks to Anatoliy for the bottles and of course for answering my questions.