Whisky is something that has brought me so much. Not only have I been able to taste very beautiful whiskies over the years, but I have also travelled a lot and seen many distilleries and visited the nicest festivals. But perhaps the best part is the people I've met and get to know. Whisky brings people together, and I hope this never changes.
One of the people I've met recently was Anatoliy, a super friendly guy from the Ukraine. This was during the Whiskybase Gathering, where he handed me a number of samples from Scyfion, a Ukrainian bottler. I was seriously impressed by this generous gesture and also that he recognised me since there aren't many pictures of me on my social media channels. 🙂
During the Gathering, he told me that he is involved with Scyfion. So we started talking about that for a while, but also about the whisky scene in the Ukraine. Something he talked about with great passion, pride and enthusiasm and it was contagious! As a result, I wanted to know more about Scyfion and the Ukrain whisky scene. Later that week I asked him a few questions that he was kind enough to answer.
The start of Scyfion
"It all started from the love for Scotch whisky. The traditions, the history, the production process, as well as collecting and opening bottles to share with friends", says Anatoliy. "Every tasting, held in the Corvin pub in Odessa where the line-up was presented by Ruslan Zamaskovny (our co-owner), was an opening of really new and different feelings and emotions."
It was during these tastings that they became increasingly interested in the use of different casks. Therefore somewhere in 2004, the question arose: why should we not do it ourselves but with Ukrainian casks that have kept wine or maybe even other spirits. But it was only a few years later before they could actually implement this idea. This first experiment with Ukrainian casks was an Imperial, finished in Koktebel Madeira casks that came from a winery in the Crimea region. Then under the name Glen Karadag, which is a symbiosis of two languages. Glen being the Gaelic word for valley and the Crimean tartar word Karadag which means black mountain, the area where the wine comes from. It turned out to be a very good experiment, with not only a score of 90 points in Jim Murray's Whisky Bible but also on Whiskybase it received considerable scores.
Historical and cultural impact
They decided to continue, but the name Glen Karadag wasn't entirely relevant anymore. Not only did they lose a huge source for casks in the Crimea area, due to the current situation there, also not many wineries in the Ukrain use casks. And so they went to winemakers in neighbouring countries, increasing the project demographically. That's when a new name was born – Scyfion! Again a symbiosis of two languages, as it is a combination of Scythian, the Greek word for Ukraine and Fion which means wine in Gaelic. "A name which was more suitable for our ambitions to experiment with different wine casks sourced in our huge country and abroad," according to Anatoliy.
Because all casks are unique and used for the first time to mature whisky, it is always an experiment to see when they can bottle the whisky. "Sometimes it lasts 1 year, but sometimes for 3 years. The point is that we want to preserve the whisky profile and to show the cask influence. But it has to be in perfect balance," he says. "Because the period of finish is different every time, we are stating it on the labels of each release".
The idea to work with regional casks from that area is quite unique. It makes Scyfion pioneers in what they do. Anatoliy: "Every cask represents the culture of winemaking of its region and they are not only from the Ukraine. For example, the Armenian pomegranate cask, a wine made of three grades of Pomegranate, the symbols of Armenia".
Scyfion's distinctive labels
That also brings us immediately to the distinctive labels. All showcasing a certain historical image, legend or tradition that relates to the country or region where the cask comes from. Anatoliy gives an example: " the Benrinnes Pomegranate cask label shows the battle of Avarayr between the Armenians and Persians". A battle fought on 2 June 451 on the Avarayr Plain in Vaspurakan. A province of the ancient kingdom Armenia but is now part of southeastern Turkey and northwestern Iran. Seen as one of the most significant moments in the history of Armenia. "We are trying to investigate all historical aspects to show the most significant moment on the label of each release. And commemorate it to something special and important for the area where the cask was born", he explains.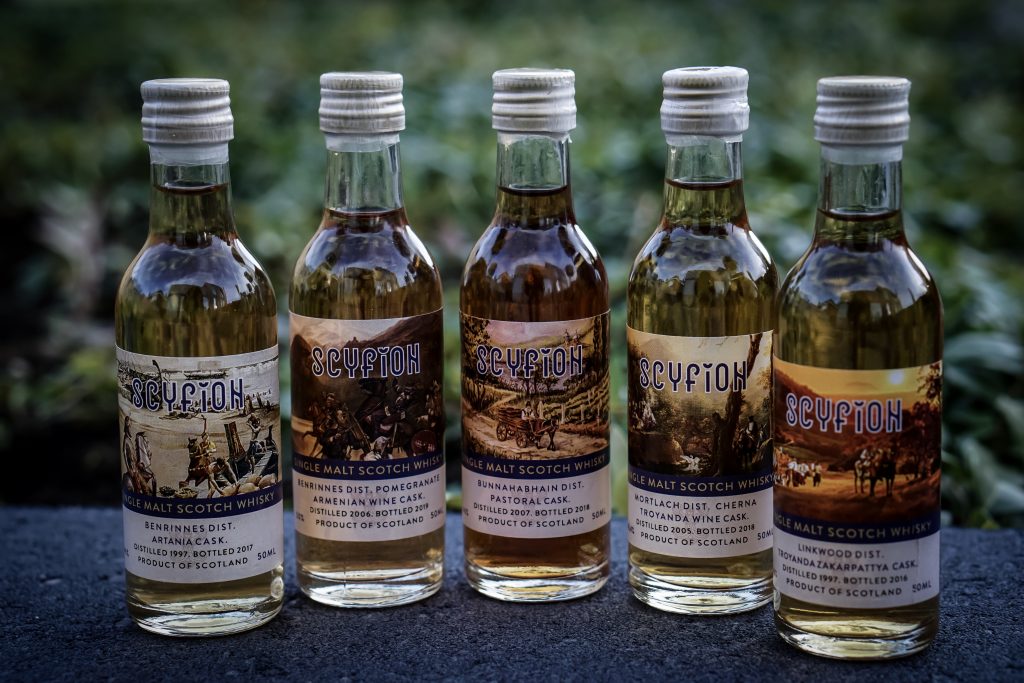 Ukrainian whisky scene
When we talk about the whisky scene in the Ukraine, it appears to be bigger than I had in mind. According to Anatoliy: "We have a huge society of whisky lovers and aficionados here in my native city Odessa. But as well in other cities like Kiev, Kharkov, Lvov, Ternopol and Cherkassi. And the amount of whisky people increases every year. We also have a very nice whisky festival in Ukraine – The Whisky dram". A whisky festival in Kiev, that seems to attract more visitors every year.
At the moment there are two indie bottlers in the Ukraine. Scyfion and the Ukrainian Whisky Connoisseurs club, created by the father of the current owners of Whisky corner; a restaurant in Kiev which has more than 900 whiskies on their menu. "But!", says Anatoliy, "the third bottler, named The Bookinist, will very soon appear in our country. It's my own project apart of Scyfion. And it's in the process of bottling now".
The lack of distilleries
But there is one big thing missing… There are no Ukrainian whisky distilleries. As weird as this may sound, it's prohibited to make a spirit of any grain in the country. With an exception of the state-owned enterprise Ukrspyrt; the biggest producer in the Ukraine of alcohol and alcohol-containing products, such as vodka. And who has a monopoly position in producing grain spirits. But at the time of writing, there is a project running to demonopolize the alcohol industry. So there might be hope on the horizon.
Scyfion future releases
Scyfion has 19 releases so far, such as a 19-year-old Linkwood Troyanda Zakarpatya cask, a 19-year-old Mortlach Odesskoe Chernoe cask and a 10-year-old Bunnahabhain Pastoral cask finish, just to name a few. "But there will be more interesting releases in the nearest future as we are expecting a few very interesting releases like a Glentauchers in a Saperavi cask, Royal Brackla in Moscatel Naranja and a few 20+ years aged Tormores in Shustoff brandy cask and Odesskoe Chernoe casks. There will also be a Caol Ila Moscatel cask, Glenburgie Beicush wine cask. And we've bought casks from the brand new distilleries like Dornoch, Ardnahoe, Strathearn, Annandale".
From 2020 it will also be possible to buy Scyfion in the EU.