A few weeks ago I received an email from Mark Littler asking if I wanted to write a review for a Glen Garioch 1965. This was the press sample for his new company: Cheaper By The Dram. But before I will review this sample (this will be posted later this week) I asked Mark some questions, because I wanted to know more about his company, himself and why he started Cheaper By The Dram.
In short, Cheaper By The Dram is a new sample service that specialises in fine & rare whiskies. Every two weeks two samples are released, which will be great whiskies to drink but are often outside the price range of the casual whisky drinker. Mark's mission is to bring whisky back to its original audience: the drinker.
Can you tell something about yourself first and how you got involved in whisky?
I'm Mark Littler founder of Cheaper By The Dram. I've been a whisky drinker since my dad first introduced me to whisky – and we still love sharing a dram together – but I got into the whisky industry through the auction side of things after I set up the wine and spirits department for Tenants Auctioneers in Yorkshire; when I got the opportunity to work with some incredible bottles of whisky I leapt at the chance.
In 2016 I launched my own Antiques and Whisky Brokerage in order to help people find the best prices for their bottles. We help people sell everything from silver canteens to Lowry prints. On the whisky side of things mostly we help people who have inherited rare bottles or found interesting bottles in the back of their cupboards that they had forgotten about.
Why did you start Cheaper by the Dram?
I have worked with whisky collectors for many years but as an avid whisky drinker myself it has always been my dream to find a way to get these bottles back into the hands of drinkers. Apart from everything else, these are bottles that I would love to try, and I wanted to share them with as many people as possible.
You spent two years setting up Cheaper by the Dram. That is quite a long time, can you explain what the biggest challenges were?
There were a few challenges along the way but one of the first was finding a bottler who would work with us. As you know, whisky has to be bottled in Scotland to be called Scotch Whisky, so we set out to find a bottler who would be willing to work with us on such a small scale – basically in the time it takes to rebottle one of our bottles into 23 drams a whole cask could be bottled, labelled and boxed.
We worked alongside the Scotch Whisky Association to ensure that our drams are compliant with their laws. But there are things you wouldn't necessarily think of that had to be designed from scratch: the box had to be custom-designed to comply with postage laws; the bottle seals had to be custom made to fit our bottles.
You cannot put brand names on the samples, now you have devised a different system for that. How does this work exactly?
We can't put the distillery names on the bottles because they are trademarks of the distilleries. So we came up with another system: each bottle is assigned a number and we're going in numerical order, so the currently released bottles are 1,2,3 and 4, the next releases will be 5 and 6. Bottles are labelled with their ABV and volume and then they come with an information card giving all the other details from the original bottle.
We also have a colour coding system for the different regions: orange is Speyside, purple is Islay, grey is Campbeltown, gold is Highland, green is Lowland, teal is Orkney, blue is Blended.
Why have you chosen for a system to release 2 samples every two weeks?
We wanted to give drinkers the chance to try two drams side by side that offer something interesting. Like the two bottles of 15-year old Laphroaig in releases NO.05 and NO.06, one is from the 80s and one is from the early 90s, so this is a great opportunity to try the 'same' whisky from two different eras.
We chose every two weeks because it gives us time to build an audience and not flood our own market with drams. Once we get more established we may start to release them more often – we've got loads of bottles lined up if everything goes to plan.
What is the target audience you aim at? Is that the younger drinker or the more advanced drinker who is still looking for his dream dram.
We want Cheaper By The Dram to be for all whisky drinkers. We chose 30ml as a dram size so that we can price the drams to be accessible for everyone. £25 for a dram might seem expensive at first, but when you realise that dram is from a bottle of Macallan 23 year old distilled in 1971 and bottled by the Hart Brothers hopefully people will realise we're trying to bring these whiskies to everyone.
We want the advanced drinker to try their dream dram for sure, but we think at that price that young drinkers can get into these exotic whiskies as well – we imagine them trying some of the more mainstream names and then finding their way through some of the more obscure drams on our list before eventually finding their own dream dram.
Do you see a rise in a younger more enthusiastic stream of whisky drinkers coming through who want to explore and learn more about whisky?
We hope so. Whisky is definitely fashionable right now, but the jump from high street bottles to a connoisseur's single malt bottle can be big and daunting if you're not sure exactly what you're after. The industry needs to do more to embrace and welcome new drinkers. There need to be more accessible bottles for young drinkers whether that is through 30ml like ours or 500ml and 350ml bottles.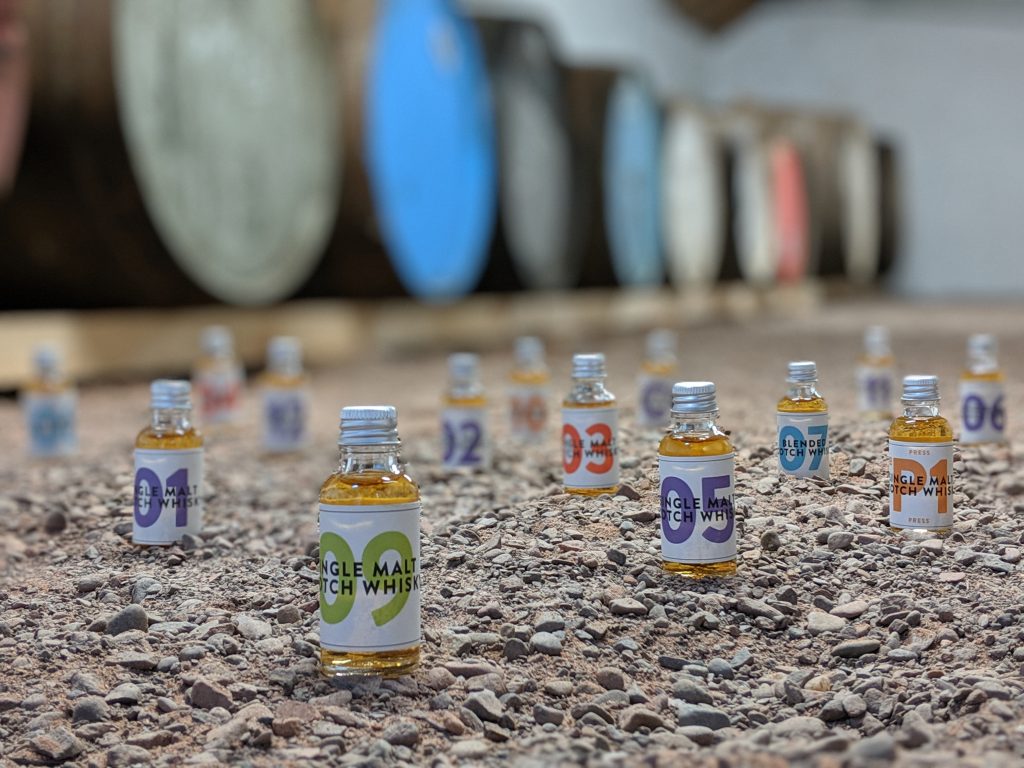 There are a lot of sample services available these days and also Master of Malt and the Whisky Exchange sell samples. Some of them also sell fine & Rare samples. What distinguishes you from these guys?
It's true that we're not the only ones doing drams, but there are also hundreds of independent bottlers working in the UK and there is space for them all because they all specialise in different things and appeal to different people. We're working at a much smaller scale than the other dram services you mentioned, and we're providing niche, vintage bottles in very limited runs.
All our bottles are vintage and collectable as well as Fine and Rare. The bottles we've used in our drams were originally bottled in the 80s or 90s so you really can't get your hands on this whisky easily. Some of our upcoming drams include a 1980s Bowmore and a Gordon and Macphail Caol Ila 1969 – where else can you get those?
Purchasing Old and/or rare whisky remains a major challenge for everyone and the prices of these types of bottles will only increase. How do you ensure that the samples remain relatively affordable for your audience?
We are priced super competitively – for a lot of our drams you couldn't buy the full bottle for the price you'd pay for all the drams in our store. Take dram NO.06 for example, a 15 year old Laphroaig from the 1980s, you can buy the bottle online today for between £1,000-£1,300, each dram from us is £35 and we got 23 drams from our bottle, so that puts the whole bottle at £805. We can't make it more accessible than that.
We can do this because we've been buying bottles continuously over the last few years. We've taken our time in order to find bottles that are perfectly fine for drinking but maybe not as attractive for collectors – like the Hart Brother's bottle in NO.04 which had a stained label that would put a lot of collectors off but was just perfect for our needs.
Do you think there is a maximum that people are willing to pay for a dram?
Yes and no. I know there is a maximum price I am willing to pay for a dram, but we enter a world way beyond my understanding of what is deemed an acceptable price for whisky when bottles are going for £1.5million. That equates to more than £65,000 a dram, and for a bottle that will almost certainly never be drunk.
So what is the maximum price people are willing to pay for a dram? Well all the drams we have lined up so far are under £90 but I've seen drams on other stores for well over £100 so I think for the time being we're fine.
 Based on what do you select the bottles for Cheaper by the Dram?
Firstly, I look for bottles that I want to try; when I see a bottle that piques my fancy I add it to my list and keep an eye out for one.
Then there are also a few big names in there that I hope will entice people to try a slice of history from their favourite distillery – the likes of Highland Park and Springbank. But it's not all about single malt Scotch. We have a couple of blended Karuizawa whiskies due out in 2020 and we're releasing a 1958 White Horse and a 1950s Black and White as NO.07 and NO.08; these are iconic bottles of blended whisky from a time when blended whisky was the king – what whisky lover wouldn't want to try those? And that is the real key when I'm picking bottles – what do I think whisky lovers want to try.
Do you have any whiskies (dream drams) that you would really like to taste? ?
It's got to be the Glen Garioch 1965 that we sent out as our press drams. We still have a couple in the office, and I might have to take one home for a Christmas present to myself (if I can wait that long).