A while ago I came into contact via Instagram with Rick van Diepen, owner of the young label Single Note Whisky. He was curious if I wanted to taste one of his releases. Of course, I wanted to – it's always nice to try something new – so he sent me this Caol Ila 2008, which I really liked.
It was only his second release (along with a Port Dundas) and because I didn't really know much about this bottler, except that it's Dutch, I asked Rick some questions to find out more about Single Note Whisky.
Can you tell me a bit about yourself first and how you got involved in whisky.
I am Rick van Diepen, 37 years old, freelance e-commerce & digital marketing consultant, and living in Amsterdam with my lovely girlfriend Lieke. It all started in 2005 when I studied abroad in Edinburgh. I started my adventure in the world of whisky by joining Napier University's whisky society. Weekly tasting sessions with fantastic drams and several whisky distillery visits on Islay and Arran, made me fall in love with the Water of Life.
You only started last year. Can you give us an introduction to your label, what's the idea behind it and how did it all start?
I always dreamt of having my own business. While working for multiple premium brands (i.e. TomTom, JBL / Harman Kardon and Bose) in the last 10 years, I never let go of that dream. The love for whisky, which started during my studies in Edinburgh, was something I wanted to build upon. So I started to connect with people in the whisky industry because I wanted to learn more about it. It was very soon that I found out that it's the people working in the world of whisky, and all its enthusiasts, that is what makes this industry truly joyous. For example, I am very fortunate to become friends with Torsten (Scotch & Tattoos) and the guys from The Single Cask. They have introduced me to the world of whisky and taught me everything from sourcing the right casks, to bottling and distribution. One day I just knew, this is what I am going to do. By becoming an independent bottler, I can build my own brand combining my two passions, whisky & jazz.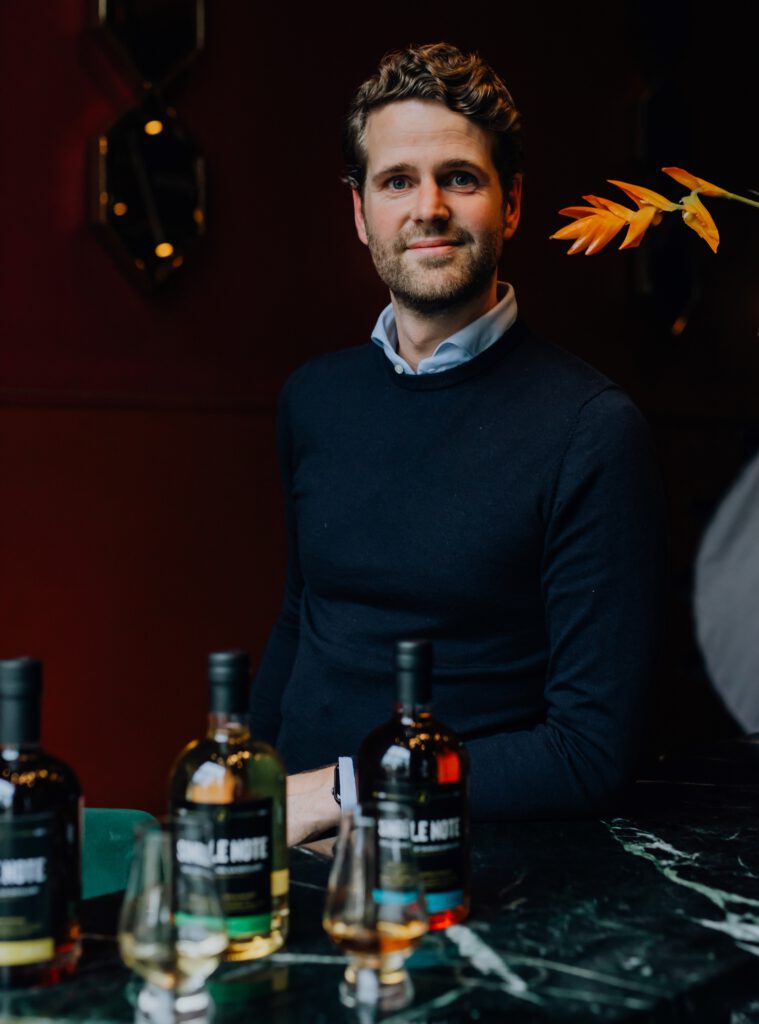 The name Single Note Whisky has something to do with your other passion jazz music. How are these two related to you?
Music is a very important part of my life. It is what makes me move. From listening to classical music when I want to focus at work or clear my head to Jazz and (funky) Big Band music to get more energy or enjoy a dram (or two). I have played the trumpet myself in several orchestras and big bands and a couple of years piano as well. For a musician, every single note you play you want it to sound right and makes you wonder if it triggers that emotion. It's the connection between you and your audience. This is how I approach my own whisky label and releases as well.
There are currently a huge number of bottlers and that number is still growing. What makes you stand out?
Personally, I think it's great that more and more indie bottlers are joining the party. We all share the same passion and we all have our own stories to share. For me, it's not so much about standing out, but more to share my story and my interpretation of a dram, or variations on a theme, if you like. It's so cool that an independent bottler is able to perform its own solo piece based on whisky from worldwide renowned distilleries. What I am trying to do with Single Note whisky is to differentiate with my label designs and the Oslo 50cl bottles. I believe it gives the whisky a bit younger and modern look.
You released your very first bottling last year, a 5 year old Caol Ila. And now you're back with two new releases, another Caol Ila but 12 years old and, surprisingly, an 11 year old Port Dundas, a single grain which was finished in a 1st fill PX quarter cask. The latter may not be the most obvious choice for a young bottler. What are your criteria for selecting casks?
In the tech world 'rapid experimentation' and 'fail fast' are a thing. As a young independent bottler, I am still discovering what resonates best with the brand. The best way to find out is to try. This way I am learning quickly about all different types of whisky and casks and with this knowledge and expertise, I'll keep discovering and exploring my own style.
Is it difficult to get good casks as a newcomer?
I believe I have been very fortunate to become friends with the guys from The Single Cask. They are known for sourcing very high-quality casks from a diverse range of distilleries.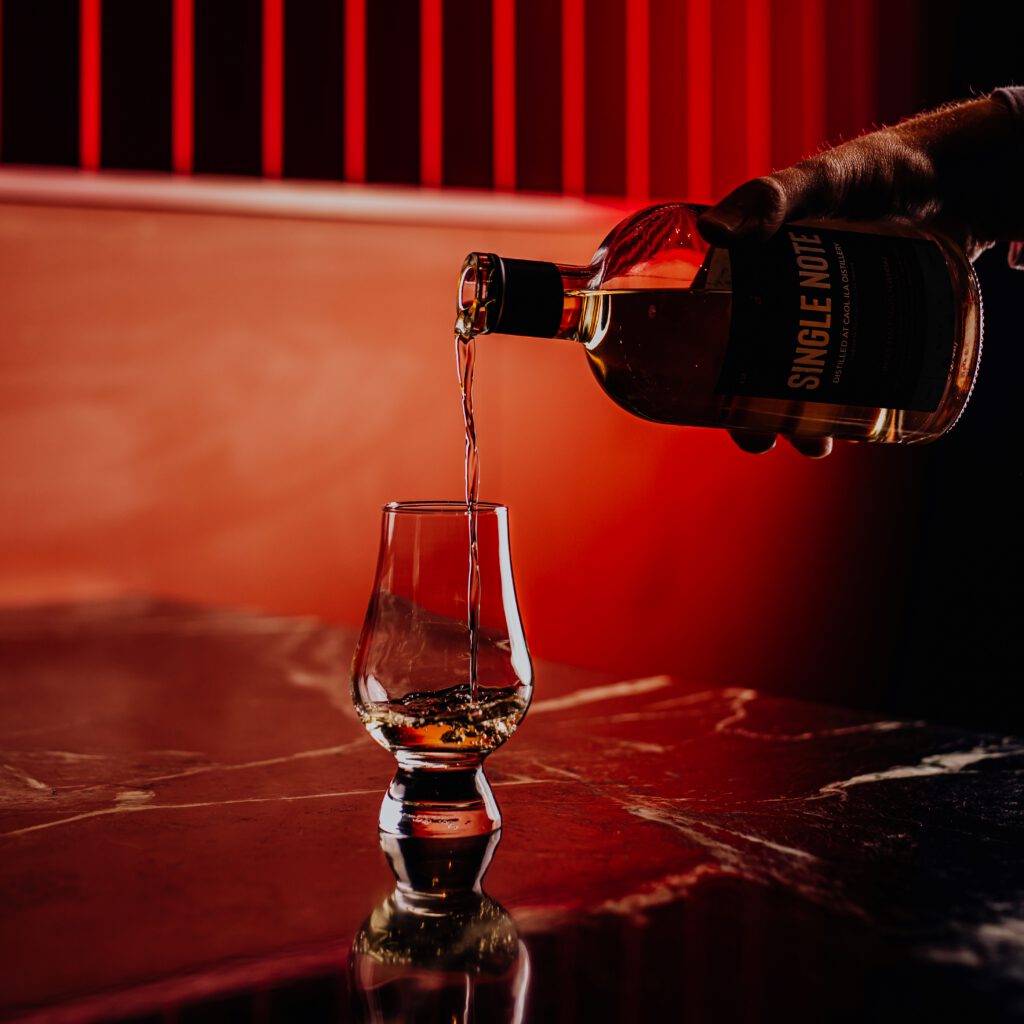 It has been quite a hassle to get the last two releases shipped to the Netherlands, are you experiencing many problems with transport since Brexit took effect? And are there any other issues you encountered?
Indeed. Brexit caused many headaches to get parts of my stock to Amsterdam, where I am based. To start, it was very difficult to find a transportation company willing to go through all the paperwork hassle for just 1 pallet. But you quickly learn that you are not alone in this. Again, the people in this industry are very willing to help, or even join shipments.
What would you like to achieve with your label in the future?
I will keep soloing for some time and introduce more releases in the future. For me, this is the perfect way to stay connected in the industry, keep exploring and developing my own nose and palate. My dream is to have Single Note whisky served at jazz bars, so people listen to some good music and enjoy a dram. It would also be great if Single Note will be available at the North Sea Jazz festival or any other jazz fest in the world. To combine jazz and whisky would be a dream come true.
Which brand would you ever want to bottle and why?
My journey started off with Ardbeg. I was very lucky to have Ardbeg Very Young as my go-to whisky while I was studying in Edinburgh. I also visited the distillery as part of a field trip and got hooked with the peat and its smokiness.  It would be an honour to have this smoking hot distillery on my label one day.
Where can we buy your bottles? And can we expect more from you soon?
Currently, there are still a few bottles left of Single Note #2 and #3: a Caol Ila 12 years old (ex-bourbon, re-racked into 1st fill bourbon cask) and the Port Dundas 11 years (PX quarter cask). Which you can buy at shop.whiskybase.com (NL & worldwide shipping), TopWhiskies.com (UK) or DamGoodCompany.com (UK). There are also currently two casks waiting that will be bottled when the time comes. But what these two are remains a secret for now. So stay tuned… ??
Many thanks to Rick for answering all my questions and the beautiful pictures!