A little over a month ago, Milk & Honey Distillery released its first commercial single malt here in the Netherlands. And after reviewing this M&H Classic, I thought it would be a good idea to find out more about Israel's first single malt distillery. Fortunately, Tomer Goren, head distiller, was kind enough to answer a number of questions. But first a small introduction.
The first plans to open a distillery started in 2012, but it wasn't until 2014 before the Milk & Honey distillery actually went into production. There have been quite a few releases since then, mostly under the name 'young single malt' and since recently the first official single malt called the M&H Classic. In addition to whisky, the distillery also produces gin.
The distillery is located in one of the young, upcoming areas of the beautiful coastal city of Tel Aviv. And if you are in the area, the distillery has a visitor centre and (English) tours are also available.
Q&A with Tomer Goren
Can you tell me a bit about yourself first and how you got involved in whisky.
When I was 21 years old, I owned 2 bars and that's how I got involved in the alcohol industry and whisky in particular. Since then I'm distilling also at home, travelled a lot to Scotland and trained in some of Scotland's distilleries.
Milk & Honey is the first whisky distillery in Israel. How did the idea arise to open a distillery?
It was an idea of a group of friends all high-tech entrepreneurs that love whisky. It seemed like a challenge – building a distillery in Israel, where there is no heritage of whisky making, tradition, or knowledge, but they are the kind of people that likes to look challenges in the face and make them come true.
How is the whisky scene in Israel?
 The whisky market in Israel and especially the single malt one is growing. The whisky market, interest and understanding are on the rise. However, it is still a small market with not very high potential.
The late Dr Swan helped you to set up the distillery. What was his influence?
We took on board the late Dr Jim Swan from the very start. His expertise is distilling in a hot climate, so his experience was very relevant and met our needs. He helped us build the distillery. He designed the mash tun, chose the stills, found the best ingredients and casks and finalised the recipe for our whisky. We learned a lot from him and will cherish him always.
Can you tell me a bit about your process of whisky making? Mash tun, how long is fermentation, stills, etc.

We mash in 1-ton batches, twice a day and 5 days a week.
Fermentation time is 60-72 hours, depending on the period of the year.
We have two pot stills, one wash still with a size of 9,000 litres and a spirit still with a size of 3,500 litres.
I heard one of your stills comes from Romania? What's the story behind this?
Our wash still comes from Romania, we found it on an online website, not very sure what it distilled before. We thought it was in a good size. In the picture, it looked as tall as the door of the room. But when we flew to Romania to buy the still we discovered it was actually a 9,000 litre still and the door was actually a barn door… It took us about a year to make it work again.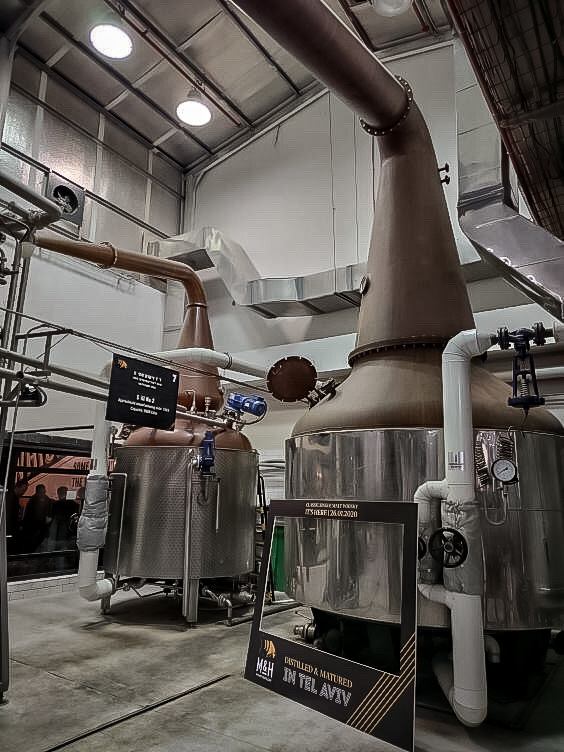 At what point do you make the cut. And is this automated?
The cutting is not automated, which means that we cut by nosing and by the strength of the alcohol. The first cut is at 80% abv. And we cut the heart at 70% abv.
What is your water source?  
We use municipal water. We use reverse osmosis technic and put back all the minerals and salt we need according to Jim Swan's recipe. That way we have consistent water throughout the process and all the time.
Where do your barley and yeast come from?
The barley that grows here in Israel is not suitable for making whisky. It doesn't have enough sugars, so we need to source it out. Our barley comes from Muntons in the UK and our yeast from Fermentis in Belgium.
The climate in Israel is quite different from Scotland, how does this affect the process. Can you tell me a bit more about this?

Israel is a very hot & humid country. That causes a quicker extraction of flavours from the wood and in fact a quicker maturation. But we lose an average of 11% angel share annually.
Are there any other differences in whisky-making compared to the Scottish way?
In all the aspects of production, we are following the Scottish rules.
The bigger difference is from the moment the cask is being filled.
We have to keep an eye on the casks and sample each cask at least once a year.
Can you tell me a little more about the different maturing locations? What are the learnings/findings of this so far?
It's still in an experimental stage so no conclusions so far. But we can tell that not all casks are suitable for all locations of maturation, and we have to learn how to work with each climate zone and which casks are best for each zone.
What kind of casks do you use and where are they sourced?

Most of the casks at the distillery, about 75%, are ex-Bourbon casks that we source from Kelvin Cooperage in Kentucky. We also have STR casks from Portugal, Red wine casks from Israel and other casks from Islay, Rum distilleries and others.
I understood that The Netherlands is your no. 1 market these days? How did this happen?
It is our most developed market. When we started exporting, Bresser & Timmer were one of the first companies we met. We had great chemistry with them and so they became our first export market and they are doing a great job.
I've tasted your gin and it was really nice. Are you going to continue with the gin production or was it a means to raise capital?
 We love our Gin, it is getting great reviews and responses around the world and it will stay in our portfolio.
Many thanks to Gil aka whiskyracoon for the lovely photos!!