This Bowmore 21 year old Aston Martin is the first release in the new Masters' Selection series, which is a collaboration between the distillery and the luxury car brand. But before we get into this, the two have taken their collaboration even one step further, namely with a beautiful suite in the L'Europe Hotel.
This exclusive hotel, which is already 125 years old, is located in a beautiful building on the Amstel in the heart of Amsterdam. I was invited to spend the night there and it was quite the experience! The hotel goes out of its way to make you feel welcome. And the room, with its stunning views over the river Amstel, has been designed to be in line with Bowmore and Aston Martin and of course L'Europe itself, resulting in a suite with warm colours and vintage furniture. It's a great place to unwind after a long day in the ever-busy capital. Of course, the suite also comes with a nice private Bowmore tasting of three different single malts, given by a very knowledgeable employee of the hotel. However, the 21-year-old Bowmore Aston Martin is not among them. All in all a very pleasant stay in one of Amsterdam's most beautiful hotels and it was also great to be able to visit the city again because that was already two years ago!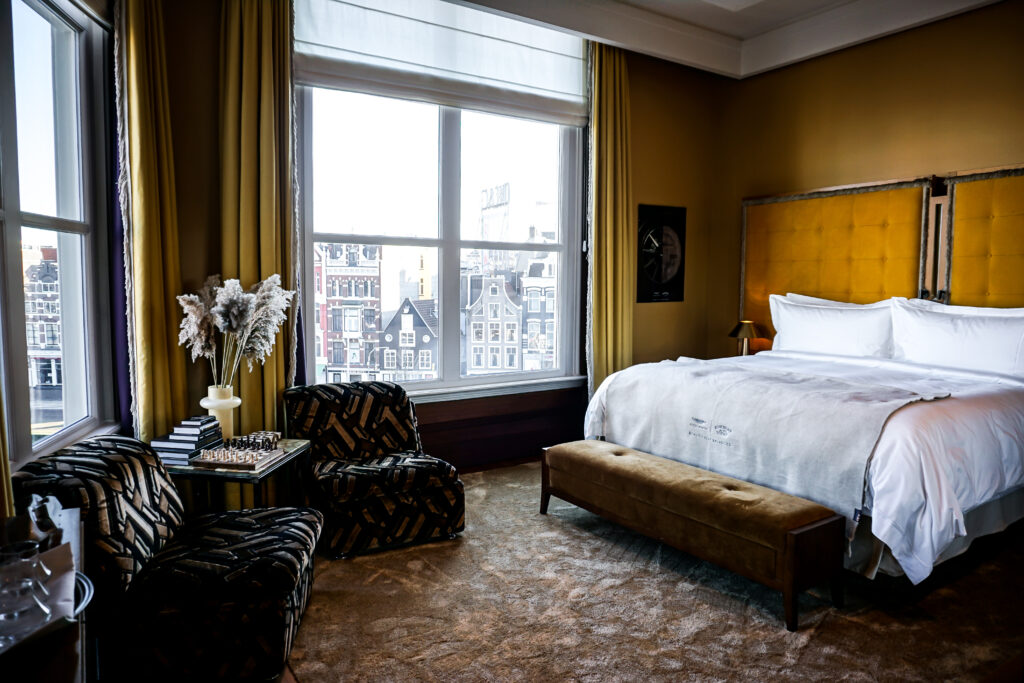 But let's go back to the review of this Bowmore 21 year old Aston Martin. 😉 What makes this bottle special is that it is inspired by the golden ratio, a method that Aston Martin also uses to design its cars. And which according to many, reflects the perfect proportions and stands for harmony and the ideal image. It is a method that is used in mathematics and often recurs in art history, especially in ancient Greek art, but later also very popular in the Renaissance. One of the greatest examples is Leonardo da Vinci, who applied this method/ratio in his portraits, such as the Mona Lisa.
For Bowmore, however, it was the first time that they applied the golden ratio, but this turned out to be not without merit. Initially, a base of exactly 61.8% 21-year-old single malt (matured in PX and Oloroso sherry casks) was used. And to stay in line with the concept, the remaining parts were completed in the exact proportion to each other. A small part of which is also single malt that has matured for over 35 years.
This Bowmore is bottled at a strength of 51.8% ABV.
Bowmore 21 year old Aston Martin tasting notes:
Nose: a floral note at first, but this disappears rather quickly. A very elegant layer of peat, moving towards ashes. A touch of cinnamon and rich honey. Then blueberries, but also oranges. Hazelnuts and a hint of leather, as well as tobacco. Later also milk chocolate.
Taste: again that floral. A hint of peat, ashes and a lovely briny note. Then dried fruits, such as raisins and plums. Minerals. Oranges. A hint of banana candies, quickly followed by cherries. Honey and dark chocolate and coffee beans.
Finish: long and again that floral note. The peat is more pronounced here. Coffee beans and dark chocolate. It's slightly oaky.
A very nice Bowmore with a good ratio between the casks used and the Bowmore character. At some points, it might be a bit too floral for me, but luckily that disappears into the background again when you let the whisky rest for a while.