Gordon & MacPhail recently released the second release from the Mr George Legacy series, a Glen Grant 1957, with a respectable age of 64 years old.
Gordon & MacPhail knows how to surprise again and again with these very old whiskies. It's well known that the independent bottler has a long history with certain brands, such as Glen Grant, Mortlach, and Glenlivet. So it's not surprising that they have older casks at their disposal, but to mature a whisky for so long without letting it go over the top is an art in itself.
Also, surprising is the high ABV of this old single malt. I would expect this to be low in the 40s, but nothing could be further from the truth, as this Glen Grant has been bottled at a whopping 56.1% ABV. I've noticed this before, such as with this Coleburn 1981 or this Glen Grant 1948. And it intrigues me; I think Gordon & MacPhail has excellent cask management anyway, but that they also manage to keep the alcohol percentage so up to standard makes me very curious.
However, could it be that at some point, the casks were moved to a higher place in the warehouse, where it is significantly warmer? That could mean that due to the heat generated there, the ABV no longer drops or maybe even goes up… But then again, heat also causes more evaporation and faster maturation…
So how they do it, I really wouldn't know. But that Gordon & MacPhail keeps a close eye on their casks and takes good care of them is beyond dispute. The quality of these old releases is often imposing, and I expect nothing less from this Glen Grant.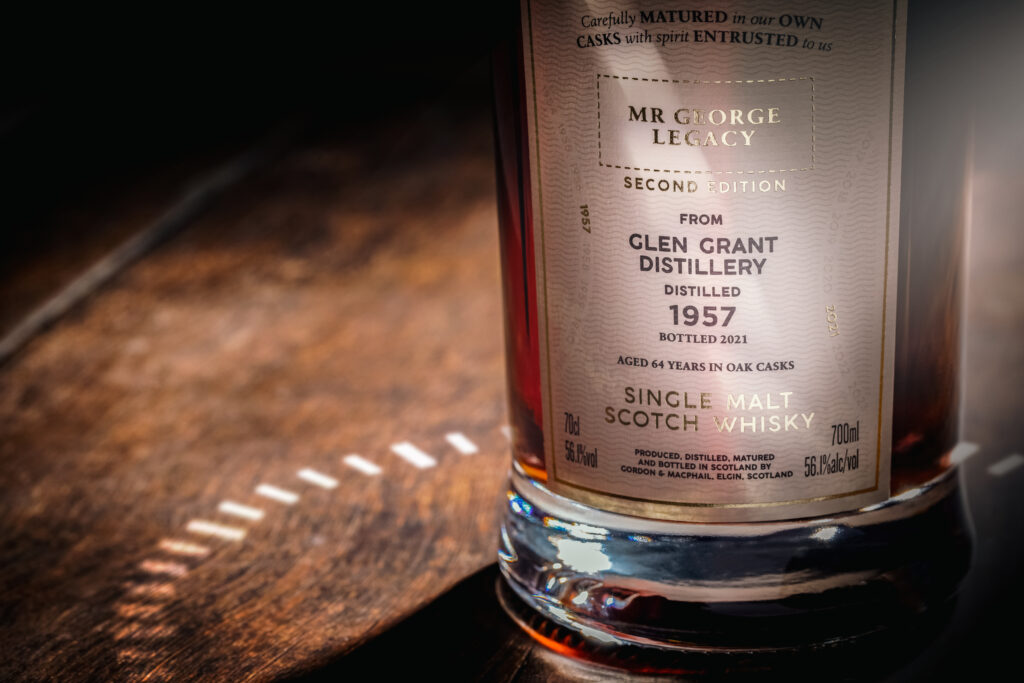 This Glen Grant has matured in a 1st fill sherry butt and is bottled at 56.1% ABV. Cask #3438.
Glen Grant 1957 tasting notes:
Nose: It starts with plenty of fruit, which goes towards all kinds of berries at first: red berries, raspberries, and blackberries. But also sweet cherries and red apples. Then loads of dark chocolate. Rich honey and hazelnuts are in the background. Later also pine needles and a hint of furniture polish.
Taste: dark chocolate and orange marmalade. Some lovely rich honey. Damped wood and tobacco, followed by Earl Grey tea and eucalyptus. Then cranberries. A touch of oak. Liquorice. A hint of cinnamon and crushed black peppercorns.
Finish: very long and somewhat dry, with dark chocolate, toffee and tobacco, but also thyme and cranberries and a hint of oak and black pepper.
As I expected, this is a beautiful Glen Grant. After all these years, it is rich, complex, and exceptionally well developed. Perfectly balanced, and nowhere does the wood take over. Just stunning!
Sample provided by Gordon & MacPhail