Friday, 28th April
Rise and shine! It is time for Spirit of Speyside festival 2017 – day 2. With another day full of events in prospect, we had to wake up quite early. It was time for a distillery tour and a whisky and food pairing event at the Cragganmore Distillery.
As a lover of the Cragganmore expressions, this was something I was really looking forward to. I had some independent releases not long ago, but you don't often see official releases. This was a rare chance to taste a few more of them. Not only were we going to visit the distillery and taste a few of their drams. We also had the chance to meet Kevin Innes, the distillery manager himself. He was our guide for the tour and also hosted the tasting.
Drams & Scran at Cragganmore Distillery
We were kindly welcomed by Kevin Innes, working in the industry for over 40 years you can imagine the knowledge he has about distilling. Before we started with the tasting, he guides us through the distillery. A unique aspect of the tour is that Cragganmore uses flat top spirit stills, as opposed to the usual swan neck. This gives Cragganmore its unique character. They also still use worm tubs, an old production method you don't see that often anymore. This particular version is the only one of this kind in Scotland. The tour ended with an inside view in one of the warehouses. This is where Kevin also draw a dram straight from the cask, which we would be able to try later on during the tasting.
After the tour it was time for the whisky & food pairing. Kevin had paired 5 Cragganmore single malts which different kinds of foods that complement each expression. With only 2 original bottlings (the 12 year old and the distillers edition) it was very nice to taste other expressions of this distillery too. It was a pleasure to see how well they all paired with the different kinds of food. One of my favourites was an green olive with feta cheese that paired very well with the Cragganmore Distillery Only.
It was a fantastic tour! Kevin spoke with lively passion and extreme knowledge about the distillery. Definitely one of my highlights during Spirit of Speyside 2017.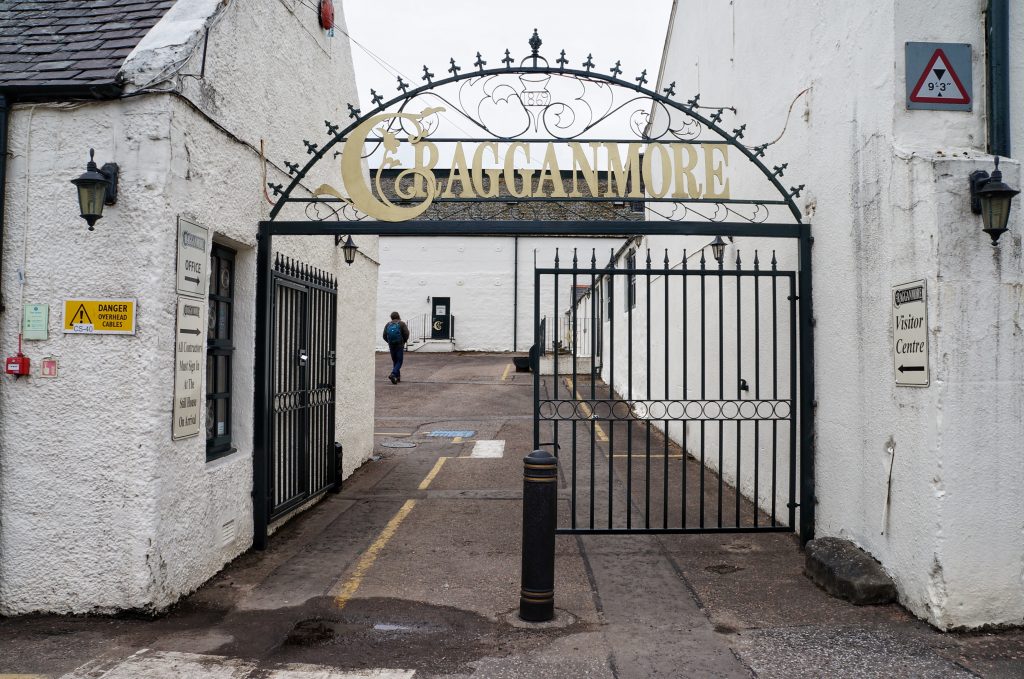 We all started to get a bit hungry of all those small bites and drams, so we left the distillery for our next stop, The Glenlivet distillery. Here we had a nice lunch at the Old Maltings Coffee Shop, which is famed for its home baking. A very welcome lunch too, as we were attending to another tasting, also held at the Glenlivet. What a tough life…
Angels and Alchemy at The Glenlivet
Master Distiller Alan Winchester appeared to be a great story teller and even after 40 years of distilling whisky, he tells with passion about his field of study and also the history of Glenlivet, and the same goes for Brian MacAuley (Maturation Director and Master Distiller of Scapa Distillery) as well.
The conversation between the two gentlemen was fun to watch. Together they led us through an impressive tasting that contained their 'new make' spirit, three different Nàdurra expressions, two single casks editions, and the mysterious Cypher. It was quite interesting to experience what the influence of the wood is in the aging process. This became particularly clear after tasting the three Nàdurra expressions, as they all matured in different casks (a bourbon cask, Oloroso sherry cask and a peated cask).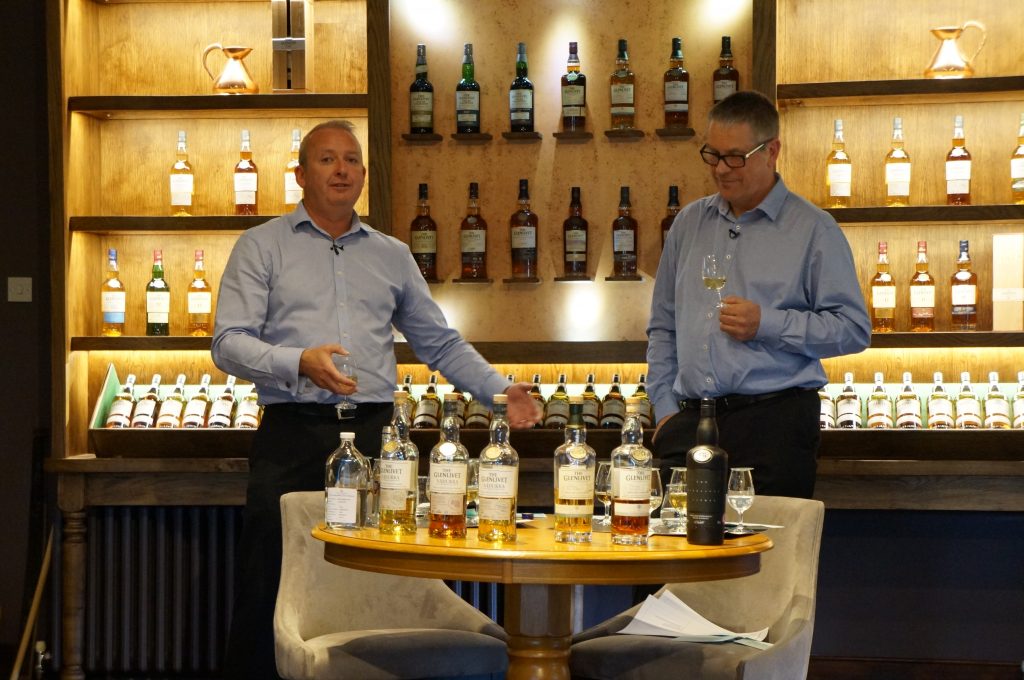 After a quick stop in Dufftown and a good bar meal at the Toots Bar at The Station Hotel, it was onwards to the Glen Moray Distillery. Heading to the last tasting of the day. Which proved to be a very surprising tasting.
The Glen Moray Distillery, openend his doors in 1830 but started originally as a brewery, producing local ales. At that time it was called the Elgin West Brewery. It was not before 1897 it was converted to a distillery. This year they celebrate their 120th birthday.
This tasting was hosted by Iain Allan (Glen Moray Visitor Centre Manager and Brand Ambassador) and co-hosted by Neil Ridley and Joel Harrison, the duo behind Cask Strength Creative.
It turned out to be a very good tasting that was completely distinguished by the various finishes, where Glen Moray is known for. The combination of tasting a Chardonnay wine next to a Glen Moray that was finished in a Chardonnay cask or a Rhum Depaz next to a GM with a Depaz finish, was really surprising and most of all very interesting. Most of the drams were drawn straight from the cask, and some of them weren't even ready to be bottled, but it showed clearly what such a finish does to the taste of a whisky.
When the tables had to be cleaned for a second round (oh boy…), we were taken by Graham Coull (Master distiller or Glen Moray) to the still room, where we tasted the new make spirit. Another surprising element of this evening, which could count on a lot of enthusiastic reactions within our group.
Then it was time for round two, with 3 more comparisons to go: Madeira, Sherry and Port. My favourite of the bunch was the Madeira. Besides that this finish worked best for me, I never had a Madeira wine before. It was quite interesting to taste that it really has its own character and is not comparable to Port or Sherry.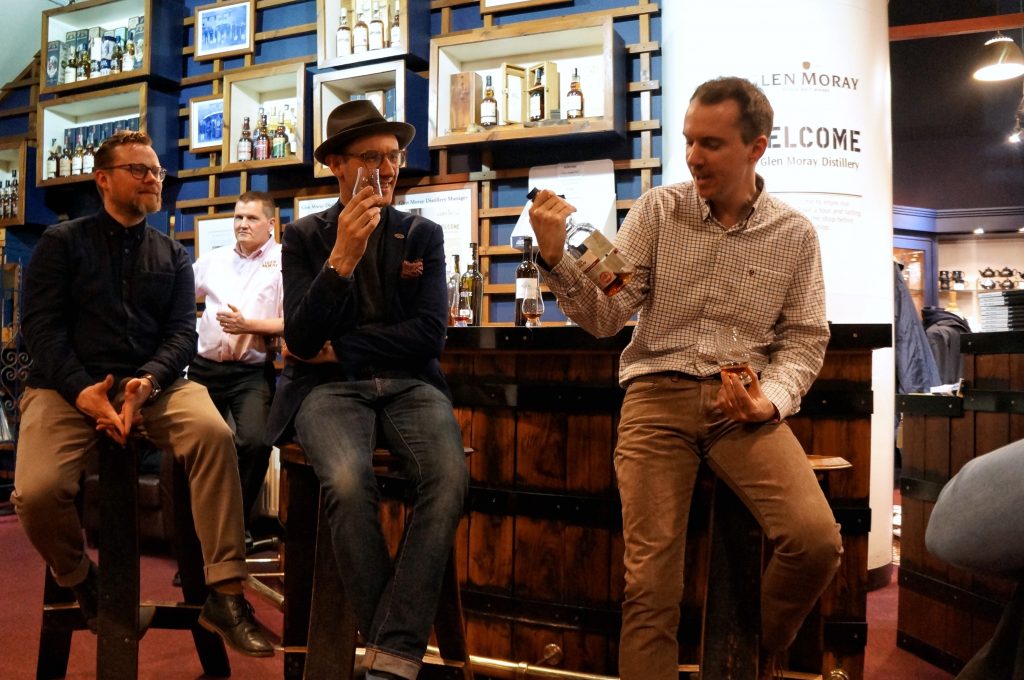 Looking back on this day it felt like a true Spirit of Speyside festival day. When else do you have the chance to do a tour or tasting with the master distiller himself. Or even taken spontaneously to the still room and taste 'new make' spirit? Yep, only at the Spirit of Speyside Festival.