On the 1st of October, Gordon & MacPhail launched a very special set of two Longmorns for their Private Collection range. The 'twin' set consists of two single cask whiskies, both from 1961. This makes them the oldest Longmorns ever released! Fun fact is that both casks are selected by Stuart and Richard Urquhart (the managers of Gordon & MacPhail), who happen to be identical twins.
The twin casks were filled on the 2nd of February 1961 and bottled on the 2nd of February 2018, so they are exactly 57 years old. Both casks were 1st fill sherry hogsheads. However one was made from European wood (cask #508) and the other from American wood (cask #512). Which makes it super interesting to compare those two and spot the differences!
The pairs will only be sold as a set, and that will cost you £30.000 (about €34.000). There will be 97 sets available.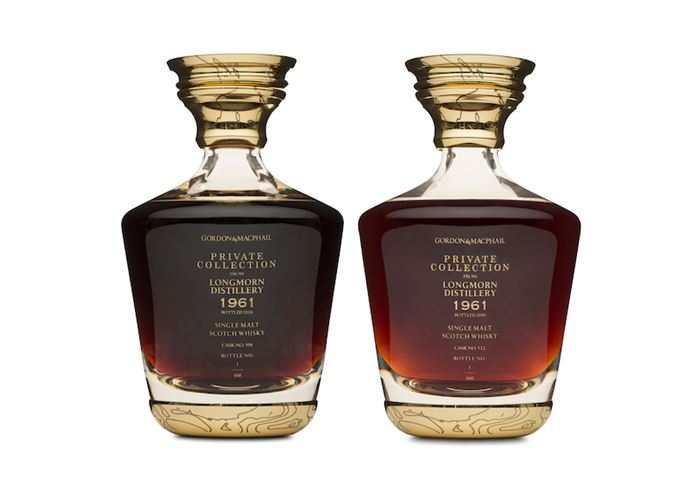 Longmorn 1961, cask #508 tasting notes:
This one is bottled at 45% ABV.
Nose: Quite sweet at first, with some lovely chocolate, raisins and figs. A hint of mint. And it's a bit dusty. Liquorice and a hint of tobacco too. Marzipan. And a bit of wood here. Beautiful nose!
Taste: Dark chocolate and a hint of honey. Some fruits, but not much; oranges mostly. Tobacco again and a bit nutty. But than it get's really bitter, which reminds me of very dark bitter coffee. Quite some oak.
Finish: The finish is mid-long to long with coffee beans and extremely dark chocolate. This is also rather bitter.
I love the nose! It's beautiful! The beginning of the taste too. But then it get's really bitter, a bit too much for me. Maybe that's because I'm not a coffee drinker, I don't know. So it looses some points here. Still a very good whisky, but just not for me.
Rating: 88
Longmorn 1961, cask #512 tasting notes:
This one was bottled at 40,8% ABV.
Nose: Some lovely fruits here, blackberries and blueberries. But it's also a bit fresher than the other one. There is citrus, oranges. Mint in the background. A tobacco note. Maple syrup and marzipan. Some oak here later too. And also very dark chocolate. What a great nose! Love it!
Taste: Surprisingly fruity at first. Oranges, and vanilla too. Some tobacco here as well. No black coffee here but black tea. That's more to my liking. 😉 Then it becomes rather dry with plenty of oak. Pure cacoa, like 90% cacoa. Somewhat nutty. Cherries.
Finish: Mid-long to long and dry. Quite some oak here too. An espresso note.
The nose is fantastic again! The wood is dominant in the taste, but it works. I love that it is fruitier and somewhat fresher on the nose. This is the winner for me!
Rate: 90
Many thanks to Gordon & MacPhail for the samples!